BRUNO DUPLANT/ RYOKO AKAMA « Espèces d'espaces»
<![if !vml]>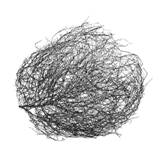 <![endif]>Bottom
US ($16, includes shipping): OUT OF PRINT
International ($19, includes shipping): OUT OF PRINT
«Espèces d'espaces» (Species of Spaces) is a limited edition of 50 archival CD-R's presenting realizations of four scores by Bruno Duplant and Ryoko Akama based on the text of the same title by Georges Perec. For this project, Duplant and Akama each contributed two scores, with both artists together performing each composition. The approaches that are taken to transforming Perec's work are diverse and include graphic notation, text-based composition, and concrete poetry reimagined as a musical score.
Each copy of «Espèces d'espaces» includes the scores themselves, elaborately presented, in the playful spirit of Perec, in the form of a jigsaw puzzle, text with transparent overlays, and vintage maps.
<![if !vml]>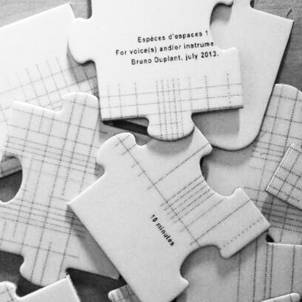 <![endif]>
"Species of Spaces. Everything is inscribed in this title: the games
with language and the wordplay; the desire to dissect, classify,
assemble, and reassemble; the invitation to envision a space, both
physical and mental (somewhat in the manner of Gaston Bachelard).

Space becomes, under his poetic pen, literally inventive; it is at the
same time the container and the contents.

Words on a white page, places, memories; so many species of spaces,
real and fictitious; senses and sensations that work alone or
together.

The work of Georges Perec, taken as a whole, is a magnificent hymn to creation.

The choice of graphic scores (with and without text) speaks for
itself, as does the decision to collaborate with Ryoko Akama, whom I
knew would have the taste and talent for such an adventure."
–Bruno Duplant
Bruno Duplant is a composer, improviser, and multi-instrumentalist based in the north of France whose primary instruments include the doublebass, percussion, electronics, and field recordings. A frequent collaborator with a wide range of musicians from around the globe, his recordings have been published by labels including B-Boim, Diafani, Engraved Glass, Ilse, Impulsive Habitat, Con-V, Unfathomless, and Mystery Sea, among many others. Together with his friend Pedro Chambel, he founded and continues to run the label Rhizome.s
Ryoko Akama uses diverse media to create sound art and compositions and performs on electronics and objects. She is a PhD candidate at the University of Huddersfield (UK), where she studies with Monty Adkins and Phillip Thomas and co-organizes the HudHack DIY electronic workshop and re.sound concert series. Her aesthetics explore silence, time and space, and texts. Having studied with Eliane Radigue, she pursues the quality of minimal, reductive, cumulative, and contemplative experiences in sonic art practice. She runs the melange edition label and has released numerous recordings on other labels.
External links: Bruno Duplant (discography); Ryoko Akama (official site);